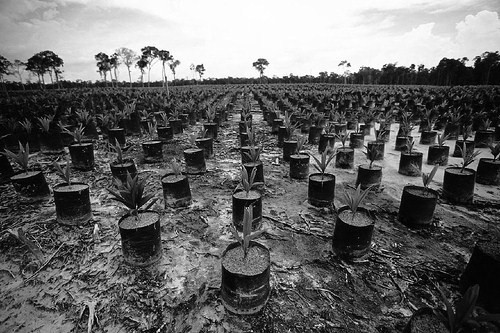 In light of the 42nd anniversary of Earth Day, celebrated this year on April 22, the government and citizens of Indonesia are again reminded of the huge challenges they face in halting or reversing the declining state of their natural forests, including those on Sumatra.
Sumatra is a rare island in that it harbors four endangered and unique mammals, namely the Sumatran orangutan, the Sumatran elephant, the Sumatran rhino and the Sumatran tiger.
Its lowland forests are recognized as part of the Global 200 Ecoregions — nature regions, landscapes or seascapes that are exceptionally important and symbolic for the survival of rich biodiversity features.
In 2004, 2.5 million hectares of Sumatra's rainforests were included on the World Heritage List of the UN Educational, Scientific and Cultural Organization (UNESCO) for their rich and unique biodiversity.
According to UNESCO, the tropical rainforest heritage of Sumatra, comprising Gunung Leuser, Kerinci Seblat and Bukit Barisan Selatan national parks, is home to an estimated 10,000 plant species, more than 200 mammal species and some 580 bird species.
However, the forests on this island have come under the constant threat of destructive and illegal logging activities, expansion of agriculture and pulp plantations, as well as infrastructure development.
Then environment minister Gusti Mohammad Hatta stated in 2010 that Sumatra had experienced tremendous pressures resulting from natural resource exploitation. He further argued that natural forests had decreased, leaving only 29 percent of forest cover on the island.
A 2010 technical report submitted to the National Forestry Council and the National Development Planning Agency, which provided scientific analysis of the state of Sumatra's natural forests, found a steep decline in forest area from 25.3 million hectares (58 percent of land cover) in 1985 to 12.8 million hectares in 2008/2009 (29 percent), which equals an annual loss of 0.54 million hectares (approximately eight times that of Jakarta's territory).
In 2011, UNESCO placed the tropical rainforest heritage of Sumatra on the list of those world heritage sites in danger. The organization viewed that the forests had been frequently under pressure from poaching, illegal logging, agricultural encroachment and road development.
To respond to these challenges, plans and initiatives have been developed, with activities undertaken at different levels, particularly focusing on sustaining the management and conserving the remaining forests on the island.
One of the key initiatives is the Road Map for Saving the Sumatra Ecosystem: Sumatra's Vision 2020, which was signed in 2010 by four ministers (forestry, environment, home and public works) and 10 governors (Aceh, North Sumatra, West Sumatra, Riau, Jambi, Riau, Bangka-Belitung, Bengkulu, South Sumatra and Lampung).
This initiative outlines the governments' commitment to developing spatial plans on the island based on ecosystem values, functions and services, restoring critical areas and protecting the remaining conservation high value areas.

Key components of this initiative include the promotion of sustainable forests, responsible agriculture development and payments for environmental services, such as for water services and forest carbon.
An initial good sign appears in the form of Presidential Decree No. 13/2012 on Sumatra Island Spatial Planning, which stipulates the intention of the government to at least maintain 40 percent of remaining forests as conservation areas and restore already degraded forests.
Yet, there is a gulf between a high-level commitment and seeing desired changes on the ground.
To bridge the gap between commitment and implementation, strong support from the corporate sector is required, mainly from agriculture and pulp plantations, to ensure that the development of plantations will no longer replace forests and peat lands.
A recent petition signed on behalf of various organizations submitted to President Susilo Bambang Yudhoyono to save the habitats of orangutans in the Gunung Leuser ecosystem proves the necessity of engaging the aforementioned sector. In this letter, these organizations say that the fires that are intended to clear forests in the province of Aceh for oil palm plantations have threatened the ecosystem, endangering 300 orangutans and pushing the species even closer to extinction.
Another aspect crucially required to realize the commitment is the support and involvement of local governments and people as well as indigenous communities. With a decentralized government system in place, regional governments hold relatively more power and authority to manage and control their natural resources.
Options or incentives provided to help local governments to develop their economies in sustainable ways are, thus, imperative to keep the remaining forests intact.
Such incentives — for forest protection and management — particularly have to be significant so that they are sufficient enough to counter the economic drivers of deforestation, which include logging and plantation development.
More importantly, these incentives have to reach local and indigenous communities, who are considered the users and providers of ecosystem services. Without their support and involvement, any initiatives may yield results but will not last long.
Furthermore, since Sumatra's rainforests have been acknowledged as one of the world's treasures, international communities have a high degree of responsibility to contribute to the creation of positive incentives that can advance the conservation and sustainable management of these globally significant forests.
As reflected by this year's Earth Day theme: "Mobilizing the Earth", initiatives to save what remains of Sumatra's forests clearly require strong support from and the involvement of different actors at different levels.
Such a broad-based effort in garnering support is definitely a good test-case as to whether we, the people of this planet, can stand united in creating a sustainable future, at least, for Sumatra and its inhabitants.
Fitrian Ardiansyah is a PhD candidate at the Australian National University and the recipient of the Australian Leadership Award and Allison Sudradjat Award. Thomas Barano is a conservation spatial planning specialist from WWF Indonesia.
This Opinion piece appeared in and is courtesy of The Jakarta Post.  Photo from the OC files.