Established in 1999, the Orangutan Tropical Peatland Project (OuTrop) – now a programme of the Borneo Nature Foundation – is dedicated to helping protect, restore and regenerate the Sabangau Forest through research, training and conservation support. The 6,300 km2 area of peat-swamp forest in Sabangau is home to the world's largest orangutan population, which OuTrop currently estimates at approximately 6,900 individuals, making it of critical importance for the conservation of the species.
OuTrop's core research is in primate population density, distribution and behavior, biodiversity assessments and monitoring, and forest ecology. OuTrop is in partnership with CIMTROP ("Centre for International Cooperation in Sustainable Management of Tropical Peatland") at the University of Palangka Raya, in Central Kalimantan, Indonesia.
Goal
OuTrop's goal is to support the conservation of orangutans, their habitats and associated biodiversity through three important avenues:
Conservation-oriented research, providing important information for, and training to, local conservation practitioners
Supporting locally-led conservation initiatives to protect, restore and regenerate orangutan habitat
Information dissemination and capacity building at a local, national and international level, to highlight the problems and solutions for biodiversity conservation

Facilities
OuTrop's field research is centered around the Natural Laboratory of Peat-swamp Forest, a 500 km2 area of peat-swamp forest designated for the purpose of scientific research. The Setia Alam Field Station is situated within this area, approximately 1 km from the Sabangau River in Central Kalimantan. The area is managed by CIMTROP, and serves as a base for research activities by scientists from all over the world, in addition to locally-led conservation activities.
Research to Support Conservation
OuTrop's ongoing research provides important support for the conservation of orangutans and their habitat in Kalimantan by:
Establishing the impact of human activities on orangutan population density, distribution and behavior, and forest health/condition
Establishing the effectiveness of different management actions for orangutan and habitat conservation
Documenting orangutan behavior and ecology, leading to new scientific findings, and comparing behavior to other flagship primate species, including white-bearded gibbons and red langur monkeys, and wild cats
Disseminating the above information to relevant parties, both locally and internationally
Training local scientists and conservationists in the above techniques.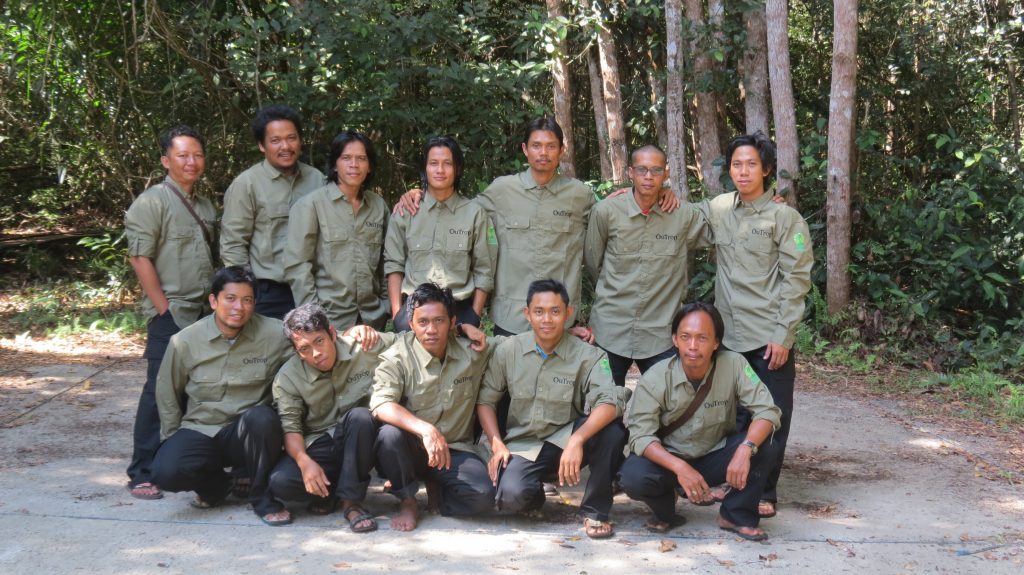 Behavior Team
OuTrop researchers have been studying wild orangutans in Sabangau since 2003, to collect behavioral data for investigations of activity profiles, feeding behavior, energetics, health, self-medication, social networks, communication and ranging. They've now named and studied over 60 individual orangutans in the area. This research has led to the publication of a large number of reports and scientific publications, numerous presentations at national and international scientific meetings related to orangutan/primate ecology and conservation, and important contributions by OuTrop scientists toward local and national orangutan conservation assessments and action plans.
Direct Conservation
OuTrop provides essential funding and support to CIMTROP's locally-led Community Patrol Team, which operates in the Sabangau Forest to:
Prevent illegal activities, such as logging and hunting, which have serious negative impacts on orangutan populations
Fight dry-season forest fires
Build and monitor dams on drainage canals dug by illegal loggers previously operating in the area. These canals drain the peat-swamp forest, making it dry and highly vulnerable to fire
Ensure continued local community support for conservation in the area
Reforestation
OuTrop's Seedling Nursery is investigating solutions to restore and regenerate degraded areas of orangutan habitat. This approach is becoming increasingly important, as the area of pristine forest in Borneo continues to reduce each year. To date, OuTrop has planted over 5,300 seedlings of 16 species, and are currently nursing a stock of over 5,000seedlings for use in further trials. To learn more about OuTrop please visit the Borneo Nature Foundation website.
The Orangutan Conservancy is excited to collaborate with this important, ongoing project. BNF OuTrop and OC now work together to solve conservation issues through practical research, by furthering on-the-ground projects that solve issues effectively, and by increasing conservation awareness in Indonesian Borneo. Our collaboration combines the strength and focus of both organizations to achieve better results for protecting a wide spectrum of biodiversity in the region.