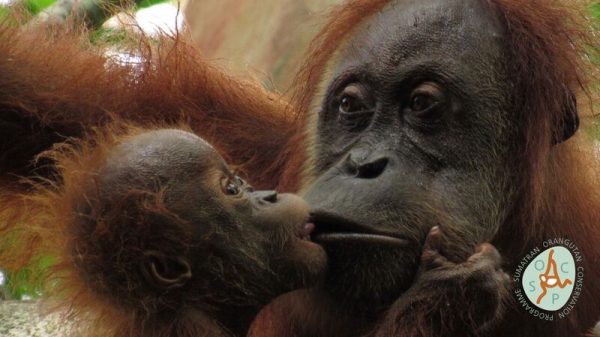 While on a routine patrol in the Jantho Nature Reserve, in Aceh, Indonesia, a team from the Sumatran Orangutan Conservation Programme (SOCP) and BKSDA Aceh were delighted to find an adult female orangutan named Marconi, carrying a newly born infant. This infant male, named Masen, is the very first to be born to an entirely new wild population of orangutans being established in Jantho by the SOCP. The SOCP first began releasing confiscated former illegal pet orangutans in Jantho in 2011 and to date has reintroduced 100 orangutans into Jantho's forests. The mother, Marconi, was confiscated by the SOCP and BKSDA Aceh in December 2009.
"This is fantastic news" proclaimed Dr. Ian Singleton, Director of the Sumatran Orangutan Conservation Programme. "We've been working hard in Jantho to start building a brand new wild population of the species in the forests there. The goal is to create an entirely new, self-sustaining wild population of this Critically Endangered species." Mukhlisin, manager of the Orangutan Reintroduction Centre in Jantho added "After several years of hard work, by the whole team in Jantho, we are finally seeing the results. This new infant is just the start of what will eventually be a new population of orangutans that have never experienced captivity or contact with humans. He gives all of us new hope that we really can prevent the extinction of these amazing creatures."
Only around 14,000 Sumatran orangutans remain in the wild and the species is listed as Critically Endangered by the World Conservation Union (IUCN) in their Red List of Threatened Species.
The Orangutan Conservancy are longtime supporters of SOCP.  See story below about their work at the under-construction Orangutan Haven, and please help us to continue providing funding to this and other important conservation programs by visiting our donate now page.