As we welcome in the New Year, OC would like to share a few of our 2015 highlights with you.
2015 was a busy time for the Orangutan Conservancy both abroad in Indonesia and here in the States. Because of the generous support of our donors we were able to help continue our support for numerous on-the-ground projects in Asia that are benefitting orangutans.  We also provided emergency funding, aid and logistical assistance as needed to orangutan causes that help protect the vulnerable ecosystem where these wonderful creatures live.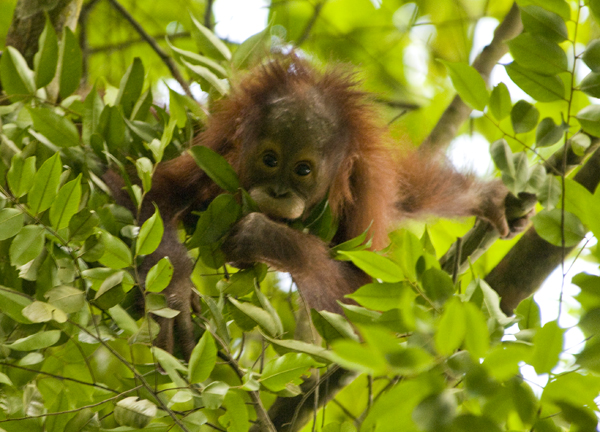 Just as January began, OC announced the release of our new app for smartphones and wireless devices. It's all about instant communication these days and the OC app helps us to keep you informed while you're on the go.  Along with our own dedicated app we also have a presence on GRASP's apeAPP, so you now can take OC mobile with you wherever you are.  Just make sure you're parked first.
Of course, it's not all high-tech. In 2015 we also made a concerted effort to attend more outreach events here in Southern California.  While the projects that we support are half-a-world away, we know that education and increasing awareness right here in America to the plight of orangutans is another step to ensuring their survival.  As such, we set up our "low-tech" tables at numerous events around Los Angeles to talk to those interested in learning more about orangutans. 
At several terrific live events we answered questions, shared photos and handouts, explained what's occurring today in Indonesia and Malaysia and what OC is doing to make a difference.  We also learned from those we met that more and more people are becoming tuned in to what's happening to orangutans, in particular regarding the enormous palm oil issue, which is the number one threat to this great ape and its rainforest home.
Highlight event appearances included those at the 65th Annual L.A. County Science Fair in Pasadena, the Earth Fair at California State University Northridge and also having an opportunity to talk up orangutans at the NASA/JPL facility in Southern California to many visitors and to some actual rocket scientists!
The early spring was an exciting time for OC as we were chosen by Portland State University to be their community partner NGO as part of their Grantwriting for Animals Capstone program.  Over the course of several months we worked with instructor Kimberly Mukobi and her dedicated senior students to prepare several grants focused on funding much-needed orangutan projects in Indonesia.
During this time, we also increased the amount of orangutan and environmental news on our website – orangutan.com – so now the site is not only a place to keep up with the work that we are doing but also is an aggregator of regularly updated orangutan news and views from around the globe.  People now know where to go to find all of the latest orangutan information in one convenient location.
Along with our colleagues from the Fort Wayne Children's Zoo, the Sumatran Orangutan Conservation Programme (SOCP), and the Ft. Worth Zoo the Orangutan Conservancy was pleased to sponsor Indonesian wildlife veterinarian Yenny Saraswati for a trip to America for vocational vet training. Yenny is an incredibly busy and talented vet at SOCP and cares for an ever-increasing number of orangutans there. It was great to be able to help provide her this opportunity.
And speaking of veterinarians, summer 2015 saw OC hosting our 7th annual OC/OVAG Workshop in Jogjakarta, Indonesia.  The annual gathering of orangutan specialists from across the region is our signature event and was the largest to date with over 60 wildlife healthcare workers in attendance.  The vets have only this one time a year to join together in-person to share their expertise and work side by side with each other before they head back into the rainforest to care for captive and wild orangutans.  It is our honor to host these frontline heroes at the workshop, and planning for the 2016 workshop is already well under way.  We especially want to thank our partners at the Chester Zoo, and all of our funders, for making this year's workshop the best yet.
At the 2015 workshop, OC also began filming our short documentary film "Toward Tomorrow with the Orangutan Conservancy," which also included footage shot shortly thereafter at The Sumatran Orangutan Conservation Programme, Orangutan Haven, and the Orangutan Tropical Peatland Project. Paying a short visit to each of these sites gave us the opportunity to see diverse and impressive projects in motion that are all improving the lives of orangutans, and we even got to film it all to show you some of the inspiring work being done in Borneo and Sumatra.
Back at home in the USA, OC prepared for our 10-year Anniversary fundraiser, which was held in Los Angeles. Our first fundraiser in a decade, we held an Indonesian-themed event in a beautiful backyard environment that was so lush it reminded us of the rainforests that we're working to protect.  Guests at the gathering heard Dr. Raffaella Commitante speak about OC/OVAG, watched our just edited film and listened to an enlightening talk from our keynote speaker – Dr. Anne Russon – from the Orangutan Kutai Project, which is an ongoing research effort in East Kalimantan, Borneo that we currently help to support.
As fall weather arrived so did Orangutan Caring Week, and OC took part in this annual awareness event to help create more global awareness about orangutans and the many challenges they face every day in their battle for survival. We care about orangutans every week of the year, but together with dozens of other like-minded organizations and countless people around the world, we unify our voices during this special time to try and do even more for our forest friends.
Dry-season fires, escalated by an El Nino weather system, raged across Indonesia during this time and OC provided emergency funding to OuTrop and their heroic community firefighting team at CIMTROP to help them battle the flames. We were also pleased to help facilitate a major donation made by the members of the Orangutan Species Survival Plan SSP Husbandry Workshop to OuTrop for that same cause.
Aside from reporting on the record-setting fires, the Orangutan Conservancy presented a slew of other stories on our website during the fall season too, including one that showed a glimmer of hope for the future protection of orangutans in Indonesia. The news report chronicled the first-ever conviction of an orangutan trafficker in the Aceh region. As law enforcement and government officials begin to seriously match the efforts of in situ orangutan projects, there is a growing feeling that the tide may finally be turning in favor of orangutans and the rainforests that they count on for a bright future.
And before we sent out our holiday cards we made sure to deliver recently ordered virtual adoption packages, which help to support the work of OKP. Surely a nice holiday treat for the conservation-minded, putting these packages together in envelopes helps to get us in the holiday spirit!  We also saw a lot of people looking for their last-minute stocking stuffers, and our "Save the Orangutan" wristbands were just the ticket.
Now, as we look forward to the New Year, OC has several fresh ideas to bring to the conservation table for 2016. We'll be working harder than ever toward the well-being of orangutans by supporting numerous projects, some long-term efforts and some new endeavors, that together offer pragmatic, realistic and sustainable solutions to the issues that orangutans so bravely face in today's environment.  We know you'll be there with us and that is what keeps our mission thriving.
Happy New Year from all of us at the Orangutan Conservancy!