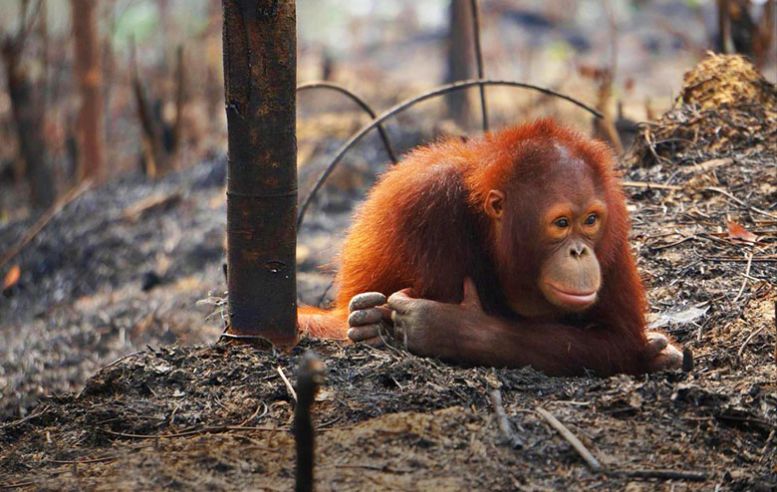 by Michael Kodas for Take Part
KENYALA, Indonesia—The orange-furred toddler survived one of the most destructive wildfires on record, but with a plastic tube leashing her neck to the porch of a small hut, she hardly appears to have found salvation. A villager, Kasuan, who like many Indonesians goes by one name, found the orangutan cowering from wild dogs last fall, perched in one of the surviving oil palm trees in a scorched plantation near the burned forest that had been her home. The rest of her family, Kasuan tells me, perished in the epic forest fires that overtook Kalimantan, the Indonesian portion of Borneo, as woodlands were burned to make room for plantations that harvest palm oil, a $50 billion business.
The ubiquitous ingredient is used in half of the packaged food and cosmetic products found on supermarket shelves, from Oreo cookies to Colgate toothpaste. At least nine of the highly endangered primates died during last year's conflagrations.  Three weeks before I arrive in March, three more orangutans, all of them female and one of them a baby, burned to death when the annual fires ignited months early.
Last fall, most of the human and animal residents of Borneo were trying to escape the smoke and flames overtaking the third-largest island in the world. For more than 20 years, Indonesia's annual burning season has devastated human health, endangered animals, and accelerated climate change. The fires are even worse when El Niño brings drought to the nation, and last year's record El Niño drove infernos with near biblical intensity.
This excerpt from an article appeared in and is courtesy of Take Part and can be read in its entirety here.
Conservation Perspective are articles, essays and first-hand accounts that the Orangutan Conservancy culls from around the world that we feel are must-reads.